Al Alamiya for Cooperative Insurance Company, Part of RSA Group Careers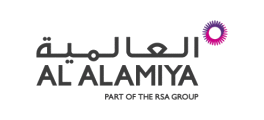 About Al Alamiya for Cooperative Insurance Company, Part of RSA Group
Company Activities
The mission of the Company is to protect individuals and companies from, and help them to reduce, the risks they face in their daily life by providing insurance products that meet their needs in the areas of Property; Marine; Motor; Medical; General Accident and Engineering. The Company's strategy is to focus on underwriting and claims discipline to achieve sustainable profitable returns. The purpose of the Company are to transact cooperative insurance operations and related activities such as reinsurance, agency activities, representation, or correspondence or intermediary activities in accordance with the provisions of the Control of Cooperative Insurance Companies Regulations and its Implementing Rules, and such other laws and regulations in force in the Kingdom of Saudi Arabia. The Company may undertake all activities whether in respect to insurance or the investment of its funds and to own, move, sell, replace or lease its immovable properties or liquid assets either directly or through companies established or acquired by itself or in association with other entities.

Company History
Al Alamiya for Cooperative Insurance Company (Al Alamiya) is a Saudi joint stock company and was established in accordance with Council of Ministers Resolution No. 5 dated 08/01/1430H (corresponding to 05/01/2009G) and in accordance with Royal Decree No. M/2 dated 09/01/1430H (corresponding to 06/01/2009G) to carry on the activity of cooperative insurance. The share capital of the Company is two hundred million Saudi Riyals (SR 200,000,000) comprising twenty million (20,000,000) ordinary shares with a nominal value of ten Saudi Riyals (SR 10) each. The Companys founding shareholders include Royal & Sun Alliance Insurance (Middle East) Limited E.C. (50.07%), Riyad Bank (19.92%), and a group of reputable Saudi investors (0.01%). The remaining 30% of the Companys capital is offered to the Saudi public.
Jobs Vacancies at Al Alamiya for Cooperative Insurance Company, Part of RSA Group
We're sorry. At the moment there doesn't seem to be any job opportunities from Al Alamiya for Cooperative Insurance Company, Part of RSA Group. Why not try a general search for Al Alamiya for Cooperative Insurance Company, Part of RSA Group on Bayt.com for other possible opportunities?
---