AMS Baeshen & Co. Careers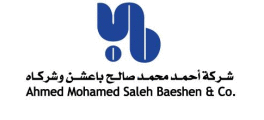 About AMS Baeshen & Co.
AMS Baeshen is one of the well established consumer products companies in Saudi Arabia headquartered in Jeddah and employing a staff of 450. The Company aggressively competes in the marketplace through its portfolio of fully owned brands that occupy leadership or strong number two positions in their categories. Some of the Company's brands are: Rabea, Rabea Gold, Rabea Express, Rabea Green Tea, Lord, Abu Jabal and Bee Sugar. The Company's core business is in the tea category with vertically integrated operations covering tea buying, blending, packing, distribution, selling and marketing. AMS Baeshen & Co.'s base market is Saudi Arabia but has been expanding in the region during the past few years with presence now in most of the Gulf and Levant markets. The Company is committed to a strategy of long term growth through the development of its core business and expansion into new geographies and categories.

The Company is managed by a team of professionals who combine the discipline and training of multinational companies with the entrepreneurial and results oriented culture of a privately owned company. The Company, being a private company that is both a brand owner and operator, is fully in control of its destiny. The people who will participate in making the future of the Company are people who are self motivated, comfortable in setting their own agenda and working independently, results-oriented, team players and of a high level of integrity and ethics.
Jobs Vacancies at AMS Baeshen & Co.
Find the latest job vacancies advertised in 2013 by AMS Baeshen & Co..
Why not try a general search for AMS Baeshen & Co. on Bayt.com for other possible opportunities?
---