Abu Dhabi Gas Industries Ltd. (Gasco) Careers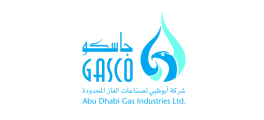 About Abu Dhabi Gas Industries Ltd. (Gasco)
Abu Dhabi Gas Industries Ltd. (GASCO) is the operating company in Abu Dhabi responsible for processing associate and non-associate gas from onshore oil production.

The Company began as a joint venture incorporated in 1978 with ownership shared between Abu Dhabi National Oil Company (ADNOC), TOTALFINA ELF, Shell Abu Dhabi and PARTEX.

In April 2001, ABU DHABI GAS COMPANY (ATHEER) was integrated with GASCO, which lead to further enhancement to GASCO's position as one of the largest gas processing companies in the world and one of the biggest industrial projects in the UAE.

GASCO convents the previously flared oil by-products into different marketable forms of clean energy. Processing takes place in its five plants at Asab, Bab, Bu Hasa, Habshan and Ruwais. A network of pipelines transports part of the processed NGL to Ruwais Plant where it is fractionated into Ethane, Propane, Butane and Pentane plus. Propane and Butane are further treated to remove the sulphur components. Ethane is then sent to Borouge, a new Petrochemical Company. The other products are stored in special tanks to later ship them world wide via the loading facility at Ruwais GASCO Jetty. The remaining processed gas (Methane) is used as fuel for the field plants, refineries, and other industrial Amenities in the UAE.
Jobs Vacancies at Abu Dhabi Gas Industries Ltd. (Gasco)
We're sorry. At the moment there doesn't seem to be any job opportunities from Abu Dhabi Gas Industries Ltd. (Gasco). Why not try a general search for Abu Dhabi Gas Industries Ltd. (Gasco) on Bayt.com for other possible opportunities?
---