SADDA business solutions llc Careers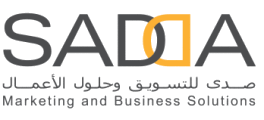 About SADDA business solutions llc
SADDA business solutions llc provides total business solutions. Our services include Marketing, Branding, Online Business Solutions, and Interior design.

SADDA business solutions llc provide comprehensive marketing
consultation and creation of advertising campaigns. It is our longterm goal to become THE preferred business development company nationwide.

At SADDA we specialize in developing "Total Brand Experience" by offering a complete range of integrated marketing services, include: Branding, PR, Online Solutions, and Interior Design. Some of our clients are: Arab Orient Insurance Company, DAYA'A restaurant, Indoor cafe, Lebnani snack, Petra visitor center, Istikbal showrooms, Elite showrooms, Kudu restaurant, and Bank of America.

We also publish specialized industry guides: Jordan Building and Construction Guide, and Jordan Travel and Tourism Guide.
Jobs Vacancies at SADDA business solutions llc
Find the latest job vacancies advertised in 2013 by SADDA business solutions llc.
Why not try a general search for SADDA business solutions llc on Bayt.com for other possible opportunities?
---