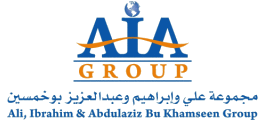 AiA Group
Industry

Construction

Location

Saudi Arabia - Hofof

Type

Employer (Private Sector)

Employees

100-499 employees
Overview
About




Ali, Ibrahim &AbdulazizBukhamseen Co. (AiA Group) was founded in Al-Ahsa district, Saudi Arabia 1990. AIA Group is a joint venture corporation headquartered in Al-Ahsa. The group has three main business lines, contracting, manufacturing and retailing.
The contracting business for AiA Group is mainly with government agencies. By the time of writing this report, AiA group is engaging with four government's projects. The number of total projects that has been done by the group is 14 projects. While AiA Group entered the contracting business in 2003, 75% of the group's net income is generated by contracting in 2010.
The second business activity is manufacturing. The group manufactures a variety of high-end bedding and lingerie products.In recent years, all raw materials are imported from China and UAE. All the products that manufactured are used in our retail stores.
The third activity is retailing with 15 stores across the Eastern Region. Most of the stores' merchandise comes from the factory, while the rest are imported from China, Turkey and Europe. These products are bedding and its accessories, towels, lingerie, women underwear and pajamas.
AiA Group runs its different activities from a centralized management headquarter. The group has 413 employees, 36 of them are females. In the fourth quarter of this year, AiA will finish its new-state-of-art management compound, which has the group headquarter, the factory, 3 warehouses and 3 housing buildings.
Departments
Engineering

Employees: 2

Avg. Experience: 4 years

Avg. Salary: Find Salaries

Top Specialties

Accounting/Banking/Finance

Employees: 2

Avg. Experience: 9 years

Avg. Salary: Find Salaries

Top Specialties

Human Resources/Personnel

Employees: 2

Avg. Experience: 8 years

Avg. Salary: Find Salaries

Top Specialties

Purchasing/Procurement

Employees: 1

Avg. Experience: 20 years

Avg. Salary: Find Salaries

Top Specialties
Companies In Similar Industries