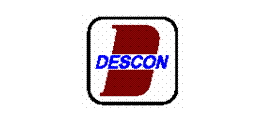 Descon Engineering Ltd
Industry

Engineering

Location

Pakistan

Type

Employer (Private Sector)

Employees

500 employees or more

Web Site
Overview
About




Descon Engineering Limited is a well recognized multi-dimensional engineering and construction company operating in Pakistan and the Middle East. With over 350 million man-hours of construction work executed in industrial and infrastructure projects, Descon employs 18000 professionals and other personnel.

The services portfolio covers project management, engineering, procurement, construction, maintenance, and manufacturing of process equipment for the sectors of Oil & Gas, Chemical/Petrochemical, Power, Fertilizer, Cement, and Infrastructure.

Currently Descon is involved in the construction of Dams, Irrigation Systems, Barrage Rehabilitation, Motorway, Plant Construction and Services, Engineering Procurement & Construction Projects, Manufacturing of Boilers, Heat Exchangers and Pressure Vessels.

Some of the big projects on which Descon is working recenlty are: Mangla Dam Raising Project(Pakista), Satpara Dam(Pakistan), M1-Motorway(Pakistan), Indus Refinery(Pakistan), Fauji Cement(Pakistan), BHP-Zamzama Gas Field Development Phase-II(Pakistan), Asab Gas Filed Development Phase-II(UAE), Shell Pearl GTL(Qatar), Sahara PC3(KSA) etc.

Capitalizing on its consistent growth and to embrace the new challenges, Descon invites self-motivated, highly skilled and career oriented individuals to join our team of professionals in the execution of various ongoing and forthcoming local and overseas projects.
Departments
Administration

Employees: 11

Avg. Experience: 7 years

Avg. Salary: Find Salaries

Top Specialties

Engineering

Employees: 63

Avg. Experience: 8 years

Avg. Salary: Find Salaries

Top Specialties

Management

Employees: 12

Avg. Experience: 12 years

Avg. Salary: Find Salaries

Top Specialties

Other

Employees: 13

Avg. Experience: 7 years

Avg. Salary: Find Salaries

Top Specialties
Companies In Similar Industries