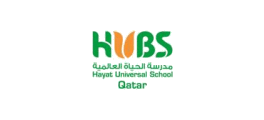 Hayat Universal School
Industry

Education, Training, and Library

Location

Kuwait - Al Kuwait

Type

Employer (Private Sector)

Employees

1-9 employees

Year Founded

2009
Overview
About




• Hayat Universal School (HUBS) Qatar is a British Columbia Certified Offshore School (fully certified by the BC Ministry of Education). This is the link to the BC Certified Offshore Schools:
http://www.bced.gov.bc.ca/offshore_schools/offshrschls_list.pdf
The Ministry thoroughly inspects our school every year. For example, inspectors look into BC program year plans, instructional time, instructional methods, admission system, integrity of promotion and registration process, support services, school policies, safety and supervision plans, student and staff records, teacher and principal certification and hiring practices, learning resources, facilities and school licensing.
• To graduate from our school, students will have to successfully complete the requirements of the British Columbia graduation program in English. Graduates receive the British Columbia Certificate of Graduation (Dogwood Diploma).
• The main program is the BC program with the majority of the instructional time dedicated for this program (80% in K and 74% starting Grade 1). A national Arabic Program is implemented alongside the BC program.
• The school started in 2009-2010 with KG1 - Grade 3 and has been adding a grade every year with the movement of students to higher grades. It will be offering up to Grade 8 in 2014-2015. The purpose of this approach is to make the lower grades the main point of entry to the school and to keep transfers in the higher primary and intermediate grades to the minimum.
• The school Early Childhood Grades (KG1 Beginner and KG1) prepare students for the BC Program. English is the main language of instruction in these grades. Their curriculum dovetails with the BC curriculum.
• From 190 students in its first year (2009-2010), the school has grown to 1130 students in 2013-2014.
• The school is the culmination of the vision and experience of a renowned psychologist and educator.
Departments
Administration

Employees: 1

Avg. Experience: 24 years

Avg. Salary: Find Salaries

Top Specialties

Education/Training

Employees: 1

Avg. Experience: 9 years

Avg. Salary: Find Salaries

Top Specialties

Human Resources/Personnel

Employees: 1

Avg. Experience: 5 years

Avg. Salary: Find Salaries

Top Specialties
Follow Company Following Unfollow
Companies In Similar Industries