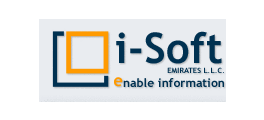 IdealSoft Emirates L.L.C
Industry

Information Technology

Location

United Arab Emirates - Abu Dhabi

Type

Employer (Private Sector)

Employees

50-99 employees

Web Site

Year Founded

1998
Overview
About




i-Soft started out as a local UAE company on January 1st of 1998.
Ever since established, i-Soft has focused on the business of software development utilizing state of the art tools and methodologies to fulfill the clients changing needs and requirements.
Our skillful group of software developers and business professionals bring into line strategy with technology to deliver robust solutions that can only provide a considerable return on investment.
i-Soft accomplishes this by:
• Creating up to date technology strategies that give organizations a clear perspective on how technology can enhance their business practices.
• Developing software solutions that provide the information enabling technology to support client's business strategies.
i-Soft brings experience, expertise, value and commitment to the development and integration of Web based technologies. We have worked with various clients and continue to develop in the course of the reputation as being a company that strives for quality and distinction.

Values




i-Soft is devoted to bringing value to its clients and making sure they achieve their business and technology objectives. This is achieved by:

• Enhancing operational effectiveness
• Providing new methods for service delivery
• Improving internal software systems
• Lowering costs associated with supporting an in-house IT department
• Reducing development team costs by providing outsourcing services
• Creating solid technology strategies to support future initiatives
• Leveraging existing technology and IT investments
• Improving customer experience of client facing applications
• Using technology for strategic business advantages
• Providing a dynamic, client-centered development process.
Departments
Technology/IT
Employees: 1
Avg. Experience: 8 years
Avg. Salary: Find Salaries
Top Specialties