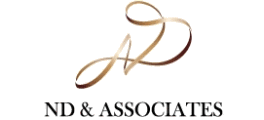 ND & Associates
Industry

Employment Placement Agencies/Recruiting

Location

United Arab Emirates - Dubai

Type

Employer (Private Sector)

Employees

10-49 employees

Web Site

Year Founded

2008
Overview
About




ND & Associates specializes in providing exclusive, experienced and skilled professionals ranging from Chief Officers, Division Heads, Directors and Managers, to Executives. To support clients in all business functions across the entire organisation, ND & Associates' consultants are divided into two main divisions:

1. Industry Specialisations (IS)
2. Business Support (BS)

Industry Specialisation (IS)
Every organisation needs a specialized recruitment partner who understands the unique requirements of particular industries. For this reason, ND & Associates have specialist teams dedicated to serve the following key industry segments:

· IT & Telecommunications
· Engineering - Energy / Environment / Utilities / Construction
· FMCG
· Investment & Corporate Banking
· Logistic and Supply Chain

Business Support (BS)
Our teams have the in-depth knowledge and experiences to serve our clients in these industries niches across all departments and skill sets. Therefore, in addition to the IS division, the BS teams have been set up to provide our long term partners with complete recruitment services to cover the following areas:


IT • Finance • HR • Legal • Procurement • Office Support • Sales and Marketing

SERVICES:
Adopting a consultative approach, ND & Associates take a long term view to our relationships with clients, believing it is essential to understand our clients' unique strategic, organizational, financial and cultural context in order to deliver real value.

We offer 7 customized solutions to meet all types of executive staffing challenges:

1. Specialized Executive Search
2. On-site recruitment
3. Head hunting
4. Mass recruitment
5. Reference checks
6. Localisation / Emiratisation
7. Executive contracting solutions

Values




- Business Statement:
Dedication to the highest quality of service, conveyed with professionalism, individual pride and company spirit

- Partnership:
Commitment to forging long term relationships with our clients, applicants and our own staff

- Quality
Finding the right person for the right job in a timely, efficient and cost-effective manner

- Flexibility
Offering an adaptable, bespoke recruitment solution

- Honesty
Open communication, never over-promising, nor under-delivering ND & Associates recognises the importance and value of our staff and that highly trained, well-motivated and empowered staff will provide our clients with the highest possible service.
Follow Company Following Unfollow
Companies In Similar Industries