CV Search and Database Access
Product Description
CV Search is for recruiters and employers who desire instant candidate access or have immediate vacancy requirements.
Access over 11,500,000 professionals instantly.

Because Bayt.com has the largest database of CVs and resumes in the Middle East, your CV Search subscription will give you instant access to thousands of potential candidates for your vacancies.

Find CVs with pinpoint accuracy in no time.

With our InstantMatch CV Search tool, we give you over 34 specific filtering criteria, such as industry, years of experience, job role, and more, to really seek out and identify that exact candidate you're looking for. You can find suitable candidates in just mere seconds!

Tag and label CVs so you can find them later.

How do you keep track of your shortlisted candidates, or candidates that need to be called for an interview? By using CV tagging, label CVs by priority level, hiring status, theme... or whatever logic you choose. What's more, all CV tags can be searched anytime using the InstantMatch CV Search tool.

Save notes to CVs to log your impressions.

You've read a CV a few days ago, but what was your impression on the candidate? Jot down your notes on the CV to remind yourself, and share them with your account members for a collaborative effort.

Export CVs to PDF, Word, or Excel and save them on your Desktop.

Often, you will need to save CVs onto your Desktop or email them to your manager to review. CV Search's export feature allows you to export all your candidates' CVs in one go -- in three popular formats: PDF, Excel, or Word.

Create customized letters and dispatch them en masse.

Once you've identified your list of shortlisted candidates, we make it easy for you to contact them all at once. The customized letter feature enables you to write a quick letter, select all candidates, and send. No need to open each and every CV to find their email addresses.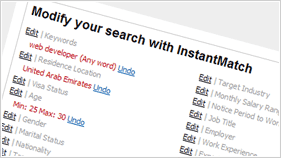 "We used Bayt.com three years ago for searching CVs and posting jobs. I found Bayt.com to be helpful in so many ways, as having Bayt.com by our side make us always ready for any sudden vacancies we would encounter, we would always able to find qualified CV, either in response to our job posting or searching through the database - this made Bayt.com an indispensable recruitment partner."
Videos
Learn how to conduct a CV search on Bayt.com and to save time with InstantMatch.

Watch a short introduction to the idea behind our industry-leading recruitment concept.

Watch this video to see what Emirates Airline says about Bayt.com.

Watch this video to see what Al Futtaim Group says about Bayt.com.

Watch this video to see what Manpower Professional says about Bayt.com.

Watch this video to see what e2e Consultancy says about Bayt.com.
Terms and Conditions
Each 1-month CV Search subscription period is equal to 30 days, except for the 12-month CV Search subscription, where the period is equal to 365 days.
The CV Search subscription period will commence as soon as your order is purchased online.
First-time buyers from countries outside the Middle East region may have to submit verification documents before access to the CV database is approved.
Each 1-month CV Search subscription period allows you to view the contact details of up to 500 candidates.
Access to the CV database will be disabled once your CV Search subscription period ends.
No refunds are available once a CV Search subscription is purchased.
---