Offre d'emploi non disponible Cette offre d'emploi a expiré et aucune candidature ne peut y être soumise pour le moment.
Sales Administrative Assistant | Al Futtaim Motors| Umm Al Quwain
Fournisseuse de Carrière Or

Cet employeur a obtenu le classement Fournisseuse de Carrière Or selon son historique d'embauche sur Bayt.com.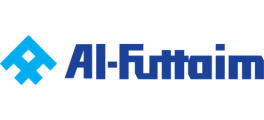 Réf. JB1820468

Compléter le questionnaire Joindre une lettre de motivation
Description du poste
The Company:



Al-Futtaim Motors is synonymous with Toyota and Lexus, which enjoys undisputed leadership in the UAE in terms of the largest number of vehicles on the road. Besides Toyota, AF Motors also holds exclusive franchises for some of the world's top automobiles and automotive products like Hino - Japan's leading heavy-duty vehicle manufacturer and Toyota/BT material handling equipment.

Al-Futtaim Motors occupies the pre-eminent position of the largest distributor of automotive products in the United Arab Emirates, and leads the rapid development of the country's automotive business, while continuing to contribute to Hino trucks and Toyota material handling equipment worldwide growth.
To provide full back-up support to these world-class franchises, Al Futtaim Motors have an established network of showrooms and service & parts centres throughout the UAE.

The Role:


We are looking for an  Sales Administrative Assistant to be based in Umm Al Quwain who shall be responsible for all the administrative functions at the branch and provides the sales team with the support required to deliver a first class experience to our customers

You will be responsible for the following duties:

* Sales team is supported by providing vehicles, vehicle detail information, and movement of vehicles for sale to customers.
* Ensure bi-monthly stock check is done to ensure physical stock tallies with system stock.
* Responsible for proper vehicle display at showroom premises
* Vehicle movement from and to branches as and when required
* Responsible to head a team of logistic people for vehicle registration, vehicle deliveries to customers and all administrative functions
* Vehicle movement to and from workshops
* Ensure all sold vehicles are invoiced, delivered and proper documentation maintained for same.
* Generate daily, weekly and MIS reports as required for the business development.
* Ensure you strictly follow the Standard Operating Procedure (SOP) as laid down for the business.
Compétences
The Person:


You will have the following experience/skills to be considered for the role:
* You have to be someone who has worked in the administrative role for at least 2 years, responsible for administrative functions.
* You have to have a positive attitude and keen to assist others so as to achieve company objectives of providing good customer experience.
* Must have sensitivity to different cultures and ability to work in multicultural environment
* Preferred having worked with SAP systems,
* Excellent MS Office skills
Détails du poste
Lieu de travail:

E.A.U.

Domaine de la société:

Industrie automobile; Commerce

Type de la société:

Employeur (secteur privé)

Fonction:

Autre

Date de démarrage:

Non spécifié

Statut d'emploi:

Non spécifié

Type d'emploi:

CDI

Salaire mensuel:

Non spécifié

Management d'équipe:

Non

Nombre de postes à pourvoir:

1
Candidat préféré
Niveau de carrière:

Expérimenté

Années d'expérience:

Non spécifié

Lieu de Résidence:

Non spécifié

Genre:

Non spécifié

Nationalité:

Non spécifié

Diplôme:

Non spécifié
A propos de la société
Established in the 1930s as a trading business, Al-Futtaim is one of the most progressive regional business houses headquartered in Dubai, United Arab Emirates.

Structured into six divisions; automotive, retail, electronics, engineering and technology, real estate, financial services and general services, Al-Futtaim operates through more than 60 companies and maintains a decentralised approach, giving individual businesses flexibility and versatility to maintain a competitive stance.

Employing in excess of 20,000 people across the UAE, Bahrain, Kuwait, Qatar, Oman, Egypt, Syria, Pakistan, Singapore and Europe, this approach benefits employees, providing a clearly defined work culture where individuals are empowered with authority and responsibility for their work.

The success of Al-Futtaim is attributed to proactively managing change whilst upholding the values of integrity, service and social responsibility. The majority of businesses, built on a portfolio of world leading brands, dominate their sector.
Réf. JB1820468

Compléter le questionnaire Joindre une lettre de motivation
---